Tumlinson Headstone Restoration and
Marking of Texas Rangers' Graves
June 22, 2002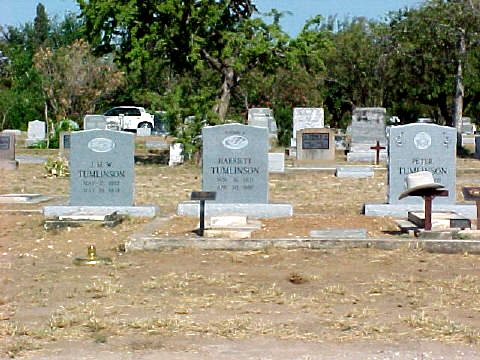 The descendants of Captain Peter Tumlinson and Harriett West Tumlinson met at Mount Hope Cemetery, Carrizo Springs, Texas, to dedicate replacement headstones for Captain Peter and Harriett TUmlinson, and the son, Joel Maurice Walker Tumlinson. Bert Lee Bell of Carrizo Springs, member of the Tumlinson Family Committee served as Master of Ceremonies. Other members of the Tumlinson Family Committee are Charlsie English Moore of New Braunfels, Mary Acord Reimschissel of San Antonio and Alfred R. "Buddy" Tumlinson of Corpus Christi. Also participating in the organization of this ceremony was the Dimmit County Historical Society. A large group of Tumlinson family members donated money to replace the old stones, which had become unreadable. Rev. Donald Tumlinson read a Memorial Tribute to Verner Lee Bell, Carrizo Springs historian and a member of the planning committee who died before the dedication. Rev. Tumlinson also conducted the dedication of the new headstones.
The Former Texas Ranger Association assisted by the "Badlands Rangers" and a unit of the Mounted Border Patrol conducted the Marking Ceremony of seventeen Texas Rangers who are buried at Mount Hope Cemetery. Retired Texas Ranger Rudy Rodriguez led the Riderless Horse. Family members unveiled the Texas Ranger Markers, placed at the foot of the graves of their ancestor, as Retired Texas Ranger Ray Martinez of New Braunfels, President of the Former Texas Ranger Association read the Mount Hope Texas Ranger Honor Roll.
Capt. Woods, Maury Garcia, Joe Davis, Ray Martinez
The Texas Rangers buried at Mount Hope Cemetery are:
Retired Texas Ranger Joe Davis of Kerville, President of the Former Texas Ranger Foundation, led the Ranger Prayer.
---
Mail to Tom Graham: Webmaster


Copyright 2023 by Historic District.